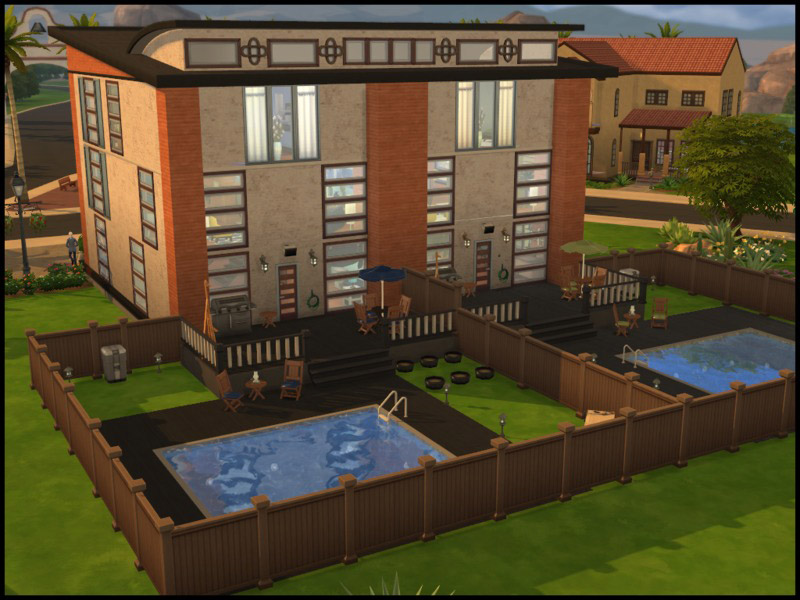 Archer Ridge is a large duplex with 2 bedrooms and 2 full bathrooms in each house. Each side is identical other then colour. 1st floor has a social area with a fireplace, bar and lots of lounging room. 1 bedroom and full bathroom.
2nd floor has large kitchen, dinning area and living room. 3rd floor is half open to the kitchen below and has a master bedroom with walk-in closet and full bathroom. Each backyard has deck, BBQ, sitting area, crafting station, and pool. Fully furnished and decorated. See notes/recommend for custom content used.
Mods
Build/Buy Unlock Cheat – Unlock All Build/Buy Content by TwistedMexi
Objects
Gab Contemporary Living by TheNumbersWomen
Gab Contemporary Living Fireplace
Natural Energy by Kiolometro
Painting Natural Energy
Pot Ceiling Lamp Set by Dot
Beddroom Simplicity by ung999
Bedroom Simplicity – Painting
Living Mediterranean Experience by Pilar
Paintings
Pilar_MediterraneanNuvolaG
Pilar_MediterraneanFoglie
Built in Oasis Springs on Arid Ridge lot.
Credits: Thank you to all TSR Artists.
Value: 276022
Furnished: Fully
Decorated: Throughout
Bedrooms: 4
Bathrooms: 4
Stories: 3
Lot Size: 40×30
Fully Furnished Residential Lot (40×30)
Credits:
Sparky