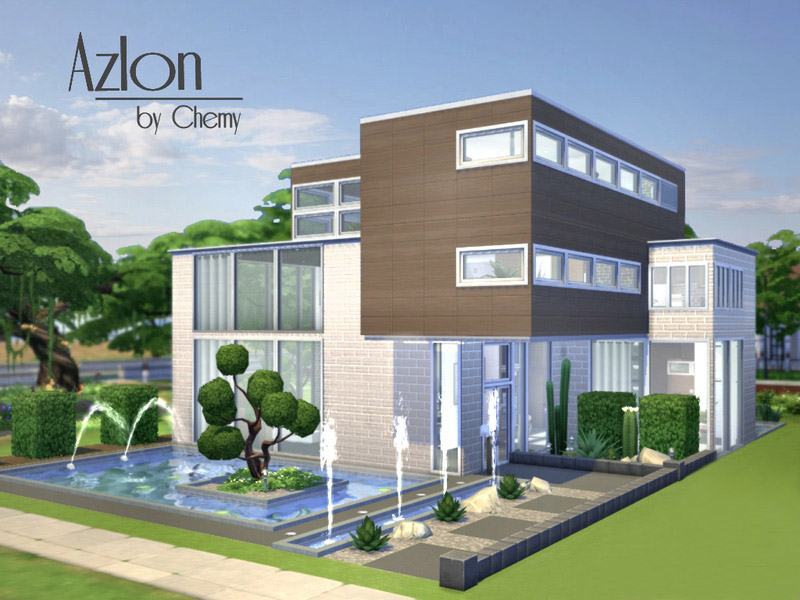 This modern 1 bedroom loft style home has open concept and vaulted ceilings in the living room. As well there is a BBQ patio with pool, computer/reading area, music/arts/gym room with access to an outdoor games room.
Note: See 'Creator Notes' for the required cc used in this lot which needs to be downloaded separately.
Plants in living and dining room have been resized – press shift +] to resize.
I have the Limited Edition of Sims 4
Make sure you have the latest patch installed.
Download the following cc and mods to Documents / Electronic Arts / The Sims 4 / Mods. Enter game, turn on 'Script Mods' then restart game and place the Lot. (not doing this can make the lot appear empty).
Thank you to the following Artists for the cc used in this lot:
Neferu
Brick wall 03
Brick wall 01
Angela
Pure Living bookshelf
Hadley Living Fireplace
Hadley Living Painting
Dot
P1 Bright C lamp mesh
Vented Wall light mesh
Ung999
Bedroom Simplicity Bed Double
Bedroom Simplicity End table
Bedroom Simplicity Painting
Bedroom Acacia Curtain Right medium wall
Bedroom Acacia Curtain Left medium wall
Bedroom Acacia Curtain Right low wall
Bedroom Acacia Curtain Left low wall
TheNumbersWoman
Modern Deco Lovers
Gab Contemporary Living Picture single
Jomsims
Loveseat Sensation Inspiration Zircon
NynaeveDesign
Shea Ceiling decor
Kiolometro
Wall Lamp Natural Energy
Mutske
Deiffenbachia Plant
Longford Cabinet
Pilar
Mediterranean Foglie Picture
TwistedMexi – MODS
Build/Buy Unlock cheat by TwistedMexi – read instructions
Move Object On cheat by TwistedMexi – read instructions
Thanks to all the Artists listed for their amazing cc!!
Value: 122335
Furnished: Fully
Decorated: Throughout
Bedrooms: 1
Bathrooms: 1
Stories: 3
Lot Size: 30×20
Credits:
chemy