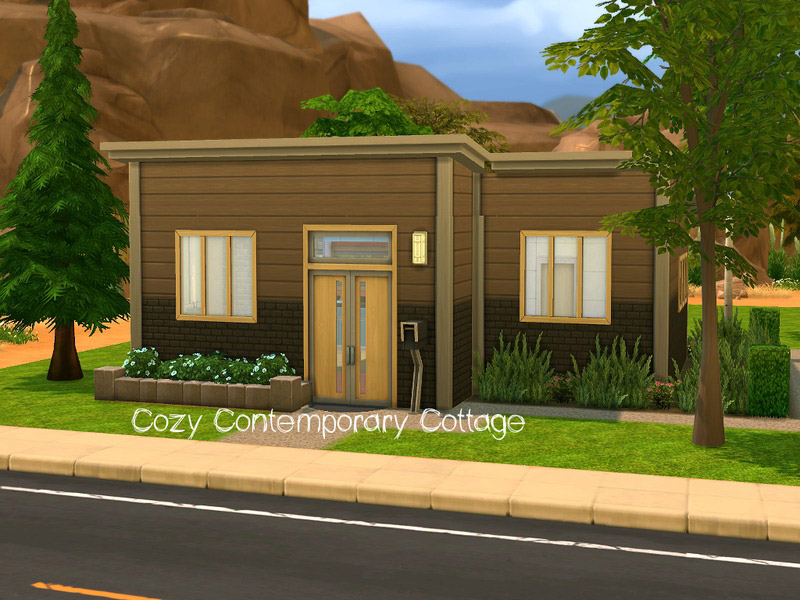 So, your sims are still broke and homeless, but they aren't into that cutesy-wootsey houses like those snobs over in Willow Creek are. They want something stylish — perhaps a little modern! But, you know, not too modern, because then that just gets really expensive, and they're broke. Really broke. So where's a sim going to get something that fits that description? Why, right here, of course! This little one bedroom, one bathroom cottage features an open floorplan with a good flow to it. Sims will enter their new home to find a spacious living room/reading area with the bathroom off to the right. The living room gives way to a combined kitchen and dining area with the bedroom off to the right and a door that leads outside to the back yard. Other features include a lovely plot of rich earth just waiting for a garden on the right side of the house and a good bit of landscaping.
This is a CC free lot, but as with my other lot — Vintage Home — there are three pieces of CC that I have used that make the pictures look the way that they do. Here they are below:
Shimrod's Improved Lighting
Plasticbox's More Corners For Siding
Kiwisims_4's Default Grass Replacement
I have also used one mod for the placement of the tv. I highly recommend it, since it allows you to put electronics on everything (and therefore build more cheaply, because you don't have to spend beaucoup on tv stands). It's Plasticbox's Electronics Anywhere.
They are not needed to play this lot. However, the first three eliminate some annoyances and the last one is just plain useful. Also, the lot info says that the lot is slightly over 17k, however, I swear at one point it was 18k. However, I'm not going to argue with the game. If the game says it's 17k, it's 17k. The lot was placed in Oasis Springs on the Sandtrap Flat lot. I think it fits nicely there. 🙂
Value: 17235
Furnished: Fully
Decorated: Throughout
Bedrooms: 1
Bathrooms: 1
Stories: 1
Lot Size: 30×20
Fully Furnished Residential Lot (30×20)
Credits:
stargirl220862