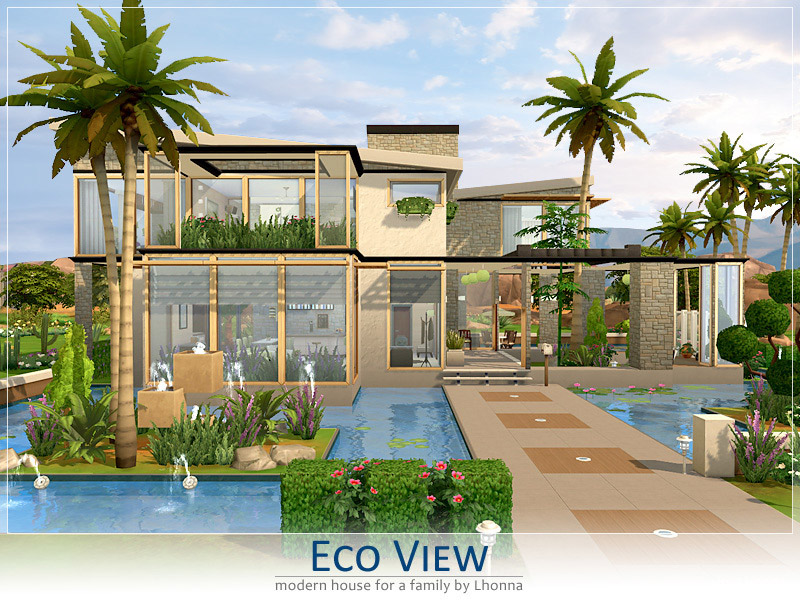 Eco View is modern, medium house for a family which want living close to nature. The lot has big garden with two porches and beautiful fountains system, and of course a lot of flowers and other plants. Inside there is also much plants and a media room has amazing view on terrace covered with flowers. Interior colors are mixed bronze and greens with some violets accents in bedrooms. House is fresh and very comfortable. Contains: 3 TVs, stereo, fire alarms, PC, tablet, easel, chess, bar and other stuff.
The house is furnished, landscaped, tested and ready to play.
Room list:
– ground floor: huge living room with open kitchen, dining area and bar, bathroom (shower)
– 2nd floor: master bedroom, kids bedroom (two girls), media room, hall, bathroom (bathtub and shower)
No CC.
To install this house into your game:
– download the house
– unzip files
– copy all 8 files and paste them into your Tray catalog ([…]/Electronic Arts/The Sims 4/Tray]
– in the game open Gallery, find house and place it wherever you want 🙂
If you don't see the house in Gallery, please follow these instructions:
If you downloaded a Sims 4 lot from us recently but it didn't appear in your game, this might be why: Turns out that EA went back to the Sims 2 game model in more ways than we originally thought. Aside from leaving out the ability to recolor furnishings in the game (CASt), if someone builds a lot using content from a version of the game that you don't have (such as the deluxe edition), then you won't see that lot. Fortunately there is a workaround – on the left side menu in the My Library section of the gallery, there is a button labeled Advanced. Click that button, then add a check mark for the option to 'Include Unowned Content'. Installed lots that you previously could not see should now appear.
Value: 170668
Furnished: Fully
Decorated: Throughout
Bedrooms: 2
Bathrooms: 2
Stories: 3
Lot Size: 40×30
Fully Furnished Residential Lot (40×30)
Credits:
Lhonna