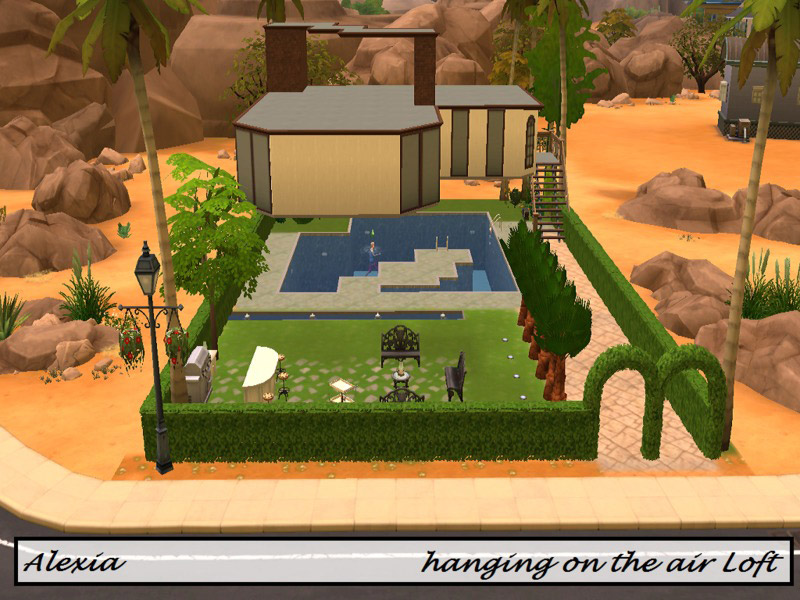 A very strange and modern house for your simies. The house is hanging on the air supported only by one column.
This house features only 1 bedroom, so a couple or one sim can live in. It also features an open concept of living room – dining – kitchen, one bedroom with ensuite bathroom and a toilet for guests. On the ground there is a big pool and a nice garden with barbeque and sitting area.
I hope you will like it.
Many thanks to the following great Artists for the cc used in this house:
WALLS:
Waves Wall by Paogae
Silken flowers wallpaper by Rirann
Sparkly tiles by Rirann
Painted wood walls by Rirann
OBJECTS:
Dream Life Mirror by Canelline
P4C Lamp by DOT
P1C Lamp by DOT
Metropole Livingroom by SIMcredible
You have to download the above cc separately.
Value: 69102
Furnished: Fully
Decorated: Throughout
Bedrooms: 1
Bathrooms: 2
Stories: 1
Lot Size: 30×20
Fully Furnished Residential Lot (30×20)
Credits:
Alexiak1232