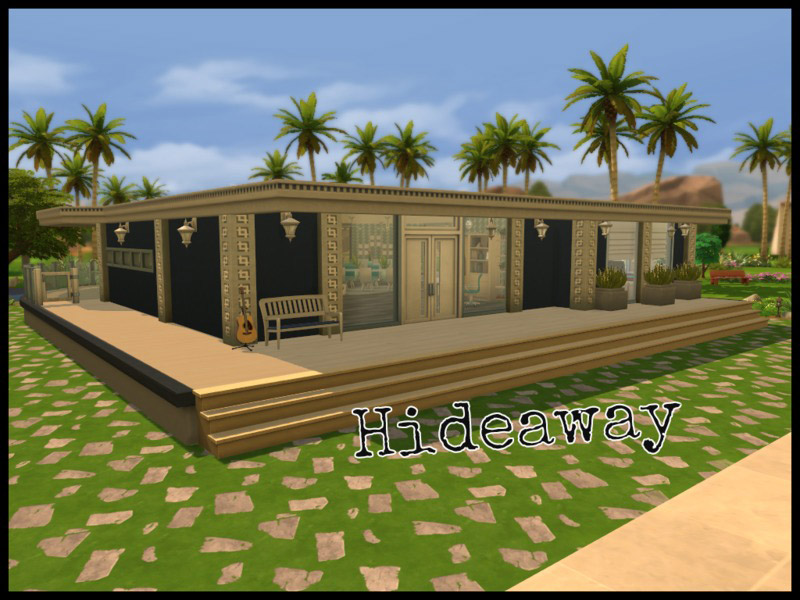 This is a modern open-concept bungalow with 1 Bedroom, 1 full bathroom. Outside has a huge deck with a BBQ and sitting area, a landscaped working pond with lots of room for a garden. Inside has full kitchen with island/sitting area, dining area has fireplace and a sunken living room just down a few steps. Great for single Sim or couple without children. Fully furnished and decorated. Yes custom content see Notes/Recommended for full download details you will need to get the exact look.
Built in Oasis Springs on Rio Verde lot.
Huge Thank you to the TSR Artists for all the custom content I used. You will need the following to have the house look exactly like it should.
List of custom content used….
Main wallpaper in the kitchen, dinning and living rooms.
Zig-zag Walls by Degera
Plants, plants, plants Set by mutske
Build/Buy Unlock Cheat – Unlock All Build/Buy Content by TwistedMexi Please follow instructions giving…it's very straight forward.
Buyable Ponds by Snaitf Please follow instructions giving…it's very straight forward.
Trenton Table Picture I by mutske
Trenton Table Picture II by mutske
Trenton Table Picture IIl by mutske
Credits: Degera, mutske, TwistedMexi, Snaitf,
Value: 117129
Furnished: Fully
Decorated: Throughout
Bedrooms: 1
Bathrooms: 1
Stories: 1
Lot Size: 40×30
Fully Furnished Residential Lot (40×30)
Credits:
Sparky