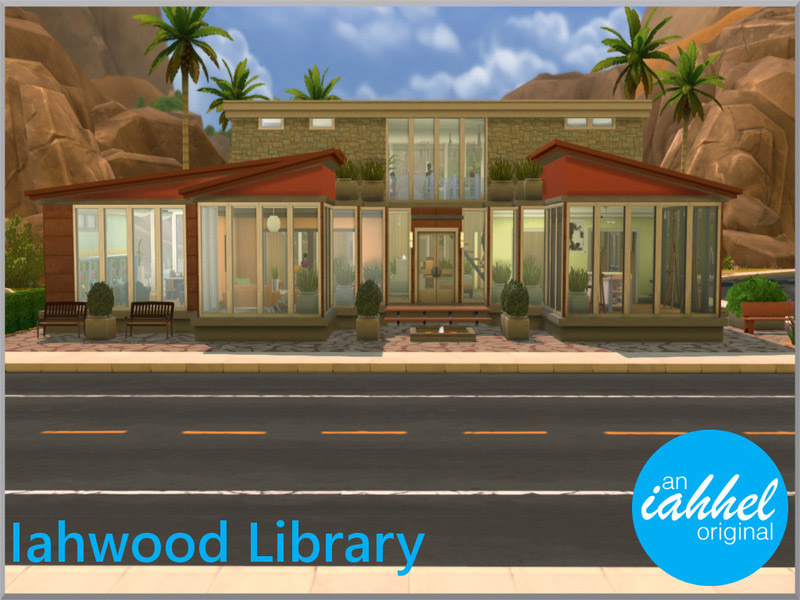 Iahwood Library built in 1974. Once just boosting the stacks, reading room and large Children's Area has expanded! So come on explore the new hall, type a letter at the new improved Computer Center, or paint the day away in the Art Studio. The new expansion also gave room for a snack bar and kids chemistry lab to be added to your visit. Now open for knowledge and fun!
The Mailbox has been left on the lot for those that use the mailbox cheats.
Built and pictured: Rattlesnake Juice Bar, Oasis Springs
Inspired by: Ardmore Public Library; Ardmore, Oklahoma
Script-Mods installed and used during creation:
Unlock Objects
Move Objects
Reminders: To keep furnished home properly decorated: enter build mode on lot chosen to place the home, hit ctrl=shift=c and enter , place the home, turn cheat back on
For placing community lots: go into build mode, bulldoze the annoying lot in the way, and open your Gallery, place community lot. If library bookshelves are empty; even after this, just replace one of the bookshelves, all stocked up!
Thank you for enjoying this library with me!
Value: 157632
Furnished: Fully
Decorated: Throughout
Stories: 2
Lot Size: 30×20
Fully Furnished Community Lot (30×20)
Credits:
Iahhel2