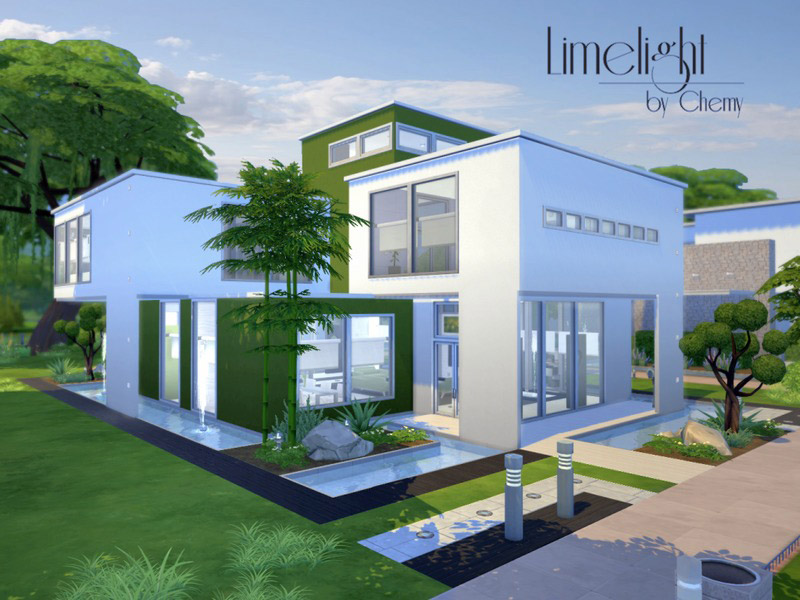 This ultra modern home features an indoor fountain and open concept. On the 2nd floor you'll find 2 bedrooms and a large bathroom. The 3rd floor offers a multi purpose room, which includes a computer area, games and gym equipment, as well as a bathroom.
Make sure you have the latest patch installed.
Download the following cc and mods to Documents / Electronic Arts / The Sims 4 / Mods. Enter game, turn on 'Script Mods' then restart game and place the Lot. (not doing this can make the lot appear empty).
ceiling light Lemingstone by Jomsims
painting Natural Energy by Kiolometro
chair Natural Energy by Kiolometro
bed Natural Energy by Kiolometro
vented wall light by Dot
Eloisa living room table lamp by spacesims
Gab contemporary living picture by TheNumbersWoman
Hadley living coffee table by Angela
Waves Wall by Paogae
Build/Buy Unlock cheat by TwistedMexi – read instructions
Move Object On cheat by TwistedMexi – read instructions
Thanks so much TSR Artists and Mod The Sims for the fantastic cc!!
Value: 123302
Furnished: Fully
Decorated: Throughout
Bedrooms: 2
Bathrooms: 2
Stories: 3
Lot Size: 30×20
Fully Furnished Residential Lot (30×20)
Credits:
chemy