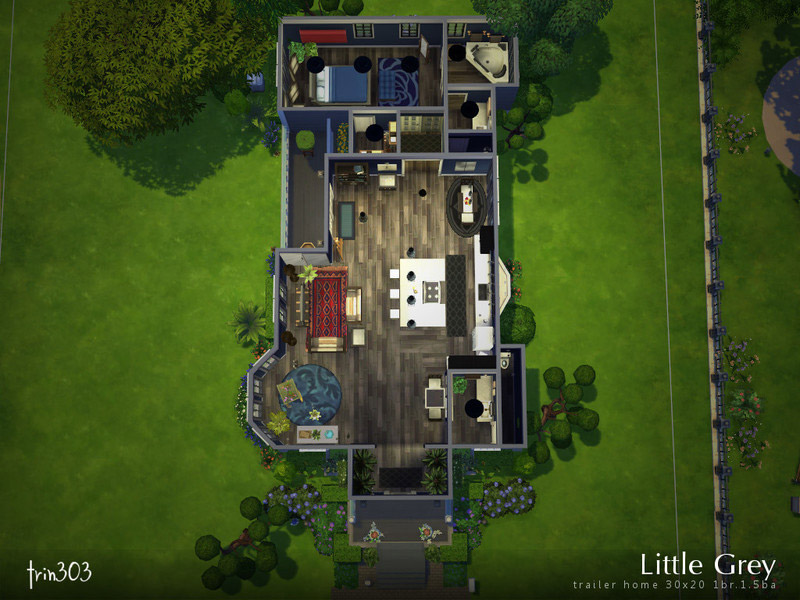 A nice little trailer home on the outside, and a spacious living area on the inside! The Little Grey is a trailer home on a 30×20 lot. 1 BR 1.5 BA. Faux foyer. Island kitchen. Open floor plan. Indoor plant room area. Breakfast nook. Walk-in closet (master bedroom). Separate water closets in bathrooms. Hardwood floors. Private work balcony. Skills: Card table, Easel, Bonsai. By trin303 for TSR.
TSR custom content is used in this lot (11 items). See Creator Notes Tab for direct download links.
Some items used in this lot have been resized. They will appear in their original size when the lot is first installed. You must resize them in Build Mode. Select object and use Shift + ] (to enlarge) or Shift + [ (to shrink).
EXPANSION/STUFF PACKS
Up All Night
THIS LOT CONTAINS CUSTOM CONTENT.
YOU MUST DOWNLOAD EACH ITEM (OR ITS ENTIRE SET) TO YOUR SIMS 4 MODS FOLDER IF YOU WANT THE LOT TO LOOK LIKE THE PICTURES.
Angela
Hadley Living Painting (Entire Set)
Victoria Living Boxes (Entire Set)
Jomsims
Wall Deco Sensation (Entire Set)
Mutske
Small Palm in Pot
Ivy Pot Small
Middle Palm in Pot
Middle Ficus in Pot
Large Palm in Pot (Entire Set)
Pilar
Mediterranean Foglie (Entire Set)
TheNumbersWoman
Shabby Bargain Chic Palm
Shabby Bargain Chic Dog Sculpture (Entire Set)
TSR Artists: Angela, jomsims, Mutske, Pilar, TheNumbersWoman
Value: 93300
Furnished: Fully
Decorated: Throughout
Bedrooms: 1
Bathrooms: 2
Stories: 1
Lot Size: 30×20
Fully Furnished Residential Lot (30×20)
Credits:
trin3032