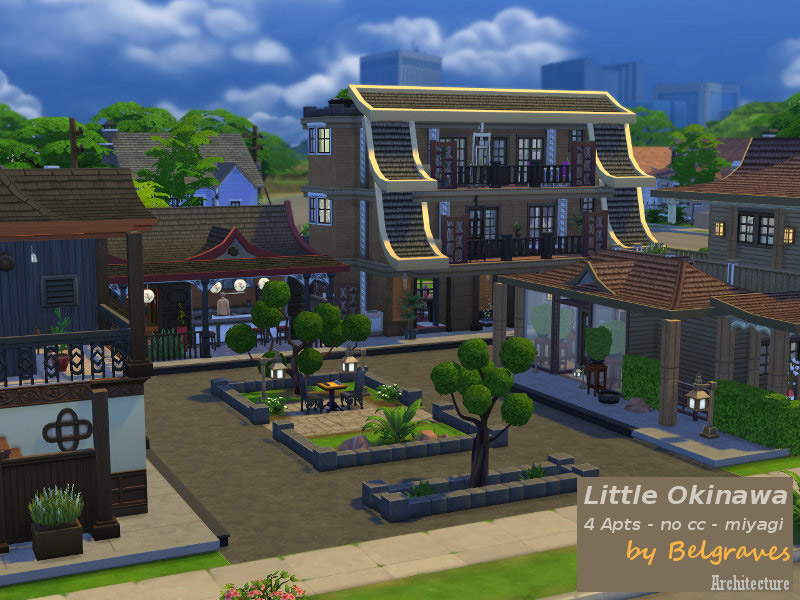 live in your own quarter of little okinawa
choose one of four appartments and run the bonsai shop, the gallery, the restaurant or the karate dojo!
(read more in the creators note)
place from Build Mode to keep resized objects
The Bonsai Shop
You can sell Bonsai Trees here.
First plant Stawberries (found behind the lot in the Commuity Garden) and Daisies (Seed packet)
Raise your gardening skill (cutting the placed bonsai helps too). With level 7 you can take cuttings. Graft the strawberries upon the daisies and you'll get combined plants. From those you can harvest bonsai berries too! Plant and raise them, after one week you can turn them from a bonsai bush into bonsai trees on a sockle and sell them for 425º. selling the remaining bonsai berries is rewarding too.
The Gallery
Paint, exhibit and sell your paintings in the gallery. You can dance and have a cocktail there too.
The Restaurant
Cook and serve Dishes for the dwellers of the quarter and invited party guests.
None of the appartments has a kitchen. All the dwellers meet at the restaurant to eat. Have your meals at the counter, inside the restaurant, at the patio or in the beautiful garden under the cherry tree.
The Karate Dojo
Raise your fitness skill. With level 9 you can practice fighting with other sims and level 10 allows you to mentor other sims.
Adress:
Petrol Garden
South East
Willow Creek
I made a matching household for this quarter.
Mister Miyagi runs the bonsai shop, he lives in the same building.
Daniel Larusso is the junior sensei of the dojo, his little appartment is upstairs.
Dtui Ngyen and her granddaughter are painters and live in the appartments above the gallery. Dtui also runs the restaurant.
Value: 260615
Furnished: Fully
Decorated: Throughout
Bedrooms: 4
Bathrooms: 5
Stories: 4
Lot Size: 40×30
Fully Furnished Residential Lot (40×30)
Credits:
Leander_Belgraves