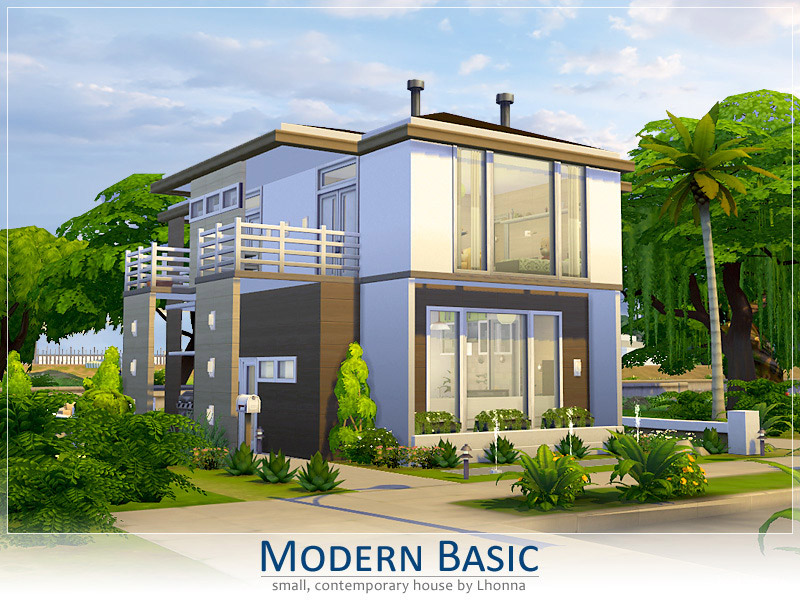 This small house on tiny lot shows that small can be large enough. Modern look outside and contemporary furnishing in calm brown, green and white colors makes this house perfect for a family or a couple that planning children.
Although its size, Modern Basic contains everything for good, comfortable living: 3 TVs, stereo, fire alarms, fireplace, chess, easel, PC, tablet, plant pots and more. In the garden there is a grill area and pool.
The house is furnished, landscaped, tested and ready to play.
Room list:
– ground floor: living room with open kitchen and dining area, bathroom (bathtub with shower)
– 2nd floor: master bedroom, kids bedroom, toilet, two sun decks
No CC.
You must have last game patch (from November 4th 2014) to play this house.
To install this house into your game:
– download the house
– unzip files
– copy all 7 files and paste them into your Tray catalog ([…]My Documents/Electronic Arts/The Sims 4/Tray]
– in the game open Gallery, find house and place it wherever you want 🙂
If you don't see the house in Gallery, please follow these instructions:
If you downloaded a Sims 4 lot from us recently but it didn't appear in your game, this might be why: Turns out that EA went back to the Sims 2 game model in more ways than we originally thought. Aside from leaving out the ability to recolor furnishings in the game (CASt), if someone builds a lot using content from a version of the game that you don't have (such as the deluxe edition), then you won't see that lot. Fortunately there is a workaround – on the left side menu in the My Library section of the gallery, there is a button labeled Advanced. Click that button, then add a check mark for the option to 'Include Unowned Content'. Installed lots that you previously could not see should now appear.
Value: 104090
Furnished: Fully
Decorated: Throughout
Bedrooms: 2
Bathrooms: 2
Stories: 2
Lot Size: 20×15
Fully Furnished Residential Lot (20×15)
Credits:
Lhonna