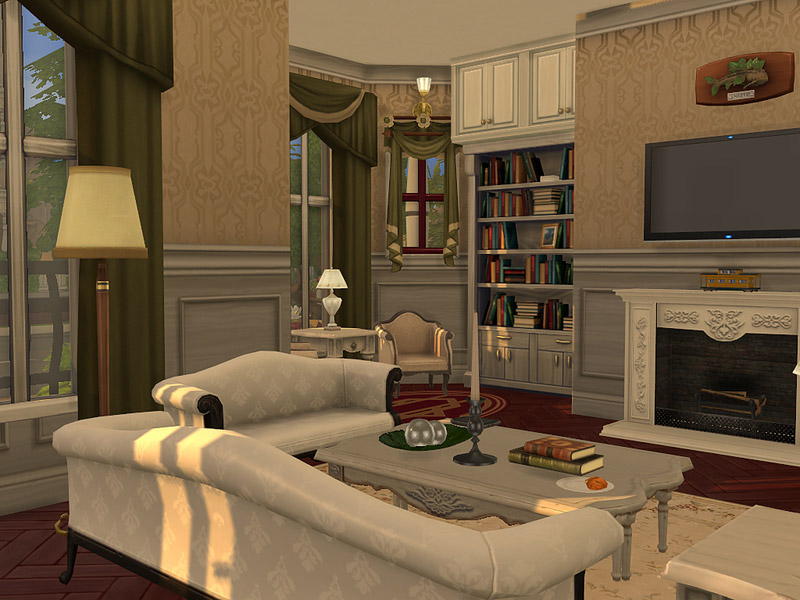 Olde Huys means Old House in old Dutch. So an Olde Huys it is, with a leaky roof and some moldy walls. Some handy sims made the entire house up to standards again and it easily fits a family of 3. There are three bedrooms, two bathrooms and a huge garden. Plans are to install a pool later this year, but for now they will have to wait until EA ships it. Maybe you can add it for them when they are available?
Enjoy!
Built in Oasis Springs, The Far right 30×40 lot on the bottom.
As more and more CC is getting available now, I will probably not upload lots with a lot of it in the future. The CC will not transfer with the lots, so you need to get it first and install the here under written things before starting your game, in order for you to get what you are expecting.
Mods Used:
TwistedMexi: MoveObjects On Mod, which you can find here: http://www.reddit.com/r/sims4Cheats/wiki/customcheats (scroll down to find the MOO mod and read the how to. If you do not have this mod installed, some items may not show up or are in your family inventory box. Make sure you enable Script Mods, then restart your game and place the lot.
Also, to have everything show up in game you can download the Unlock all Build/Buy content mod , which is also on the same site as the MOO mod here: http://www.reddit.com/r/sims4Cheats/wiki/customcheats
Cheats:
There is a fishing pond in the yard.
To enable buydebug open the cheat panel and type in the following command: bb.showhiddenobjects. Once you have activated this cheat enter -debug- in the search bar to bring up all the hidden objects. There are objects available in both build and buy mode.
You will also need these WALLPAPERS:
On the outside: Dirty Plaster-Masonry Walls by inabadromance
Bedroom: Leafy Wallpaper by Margeh-75
Bedroom: Planks by Odey92
And CC:
Sim_Man123:
Pumpkin Patch
ShinoKCR:
Power of Pink Bedroom – Rug
Power of Pink Bedroom – Curtain left
Power of Pink Bedroom – Curtain right
Power of Pink Bedroom – Doublebed
Power of Pink Bedroom – Dresser
Power of Pink Bedroom – Endtable
Power of Pink Bedroom – Painting
Angela:
Victoria Living Boxes
Hadley Living Painting
Jomsims:
Round rug Sensation
Pilar:
MediterraneanCandelabro
Severinka sets:
Provence Dining Room
Asian Bedroom
TheNumbersWoman:
Shabby Bargain Shabby Chic Rug
Gab Contemporary Living Leaf Sculpture
Value: 142955
Furnished: Fully
Decorated: Throughout
Bedrooms: 3
Bathrooms: 2
Stories: 2
Lot Size: 40×30
Fully Furnished Residential Lot (40×30)
Credits:
fredbrenny