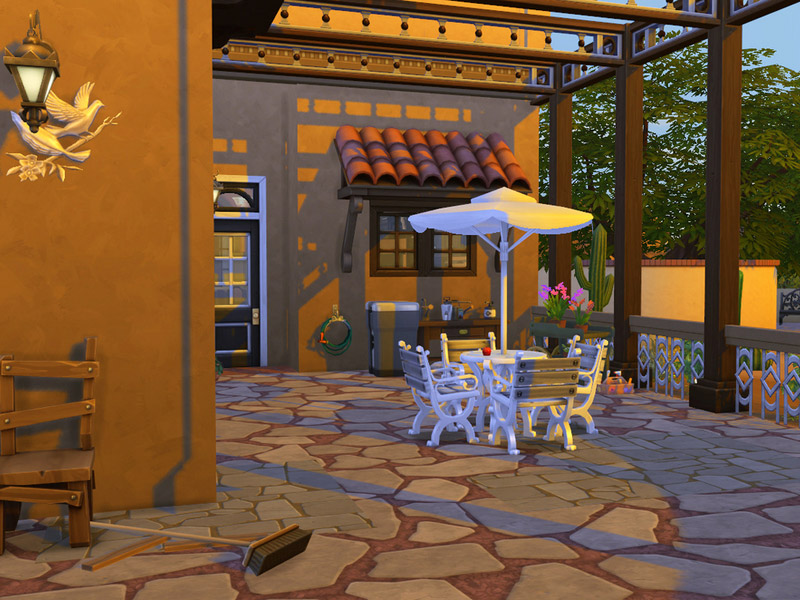 This majestic Mediterranean lot I built for SF Magazine and it is featured in issue 27. I really had to kick out the Landgraabs from the Affluista Mansion and bulldoze the lot. I thought they should move on… maybe to Sims 5 … LOL
To be honest: I liked the view from there and the constant sound of the wind. Hence the name Punto Ventoso, which means Windy Point.
The lot only has 3 bedrooms, and for my drinking sims (the bar in the living room) I built 5 bathrooms. If you want to raise a lot of children I suggest you go talk to the creative person in your family, and try to persuade them to give up floor nr. 3 for more bedrooms. It really is all possible.
Cheers and enjoy!
Built in Oasis Springs, where the Affluista Mansion used to be. I bulldozed it .HA!
You need to get the mods and CC first and install the here under written things before starting your game in order for you to get what you are expecting. ). Download The Moveobjects on Mod. Also, to have everything show up in game you can download the Unlock all Build/Buy content mod, which is also on the same site as the MOO mod here: http://www.reddit.com/r/sims4Cheats/wiki/customcheats and make sure you enable Script Mods (in Game Options – Other), then restart your game and place the lot.
Sometimes there are things missing, even arches or windows. I don't know yet how to solve that, but you can place them again, if necessary.
Cheats:
There is a fishing pond in the yard.
To enable buydebug open the cheat panel and type in the following command: bb.showhiddenobjects. Once you have activated this cheat enter -debug- in the search bar to bring up all the hidden objects. There are objects available in both build and buy mode.
Angela:
Simply Modern Rug
TheNumbersWoman:
Shabby Chic Used Living Room
Mutske:
Plants, plants, plants,
Sim_man123:
Kaelan Double Bed
Kaelan Wall Mirror
Kaelan Cutout Vase
tmex for some cool mods
Value: 392766
Furnished: Fully
Decorated: Throughout
Bedrooms: 3
Bathrooms: 5
Stories: 3
Lot Size: 50×50
Fully Furnished Residential Lot (50×50)
Credits:
fredbrenny