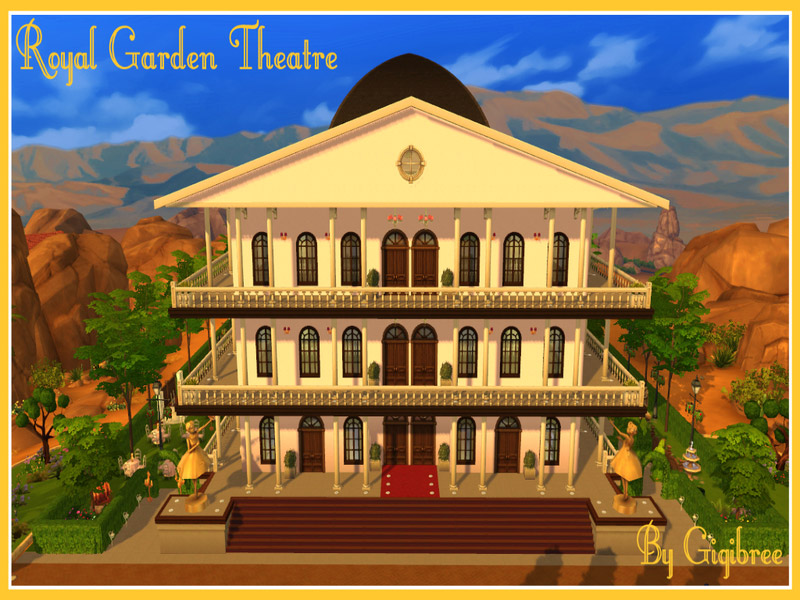 Royal Garden Theatre is a community lot for your Sims. It is, I suppose, the first truly theatre ever made in The Sims 4, and it works also as a cultural public place and as a smart lounge bar. Inside, it has:
– Entry hall with wardrobe and café
– The hall of the theater, three levels high, which counts such as 22 daises and a lots of seats in the orchestra.
– Decorated stage (you can replace it with whatever you want!!)
– A truly backstage, with the tailoring, dressing rooms, make-up rooms, rehearsal room and relax/break areas for the actors.
– 6 public toilets, and one for the staff only with private showers and cabinets
– Office
In the outside, it has:
– Smart lounge bar
– Live music in a little covered porch
– Relax and sitting areas in peaceful gardens
This is the best place for your Sims to highlight their hobbies and skills! Hope you enjoy it!
Search for #Gigibrees hashtag in the TS4 Gallery
No CC used, base game only
Value: 638429
Furnished: Fully
Decorated: Throughout
Stories: 3
Lot Size: 50×50
Fully Furnished Community Lot (50×50)
Credits:
Gigibree2