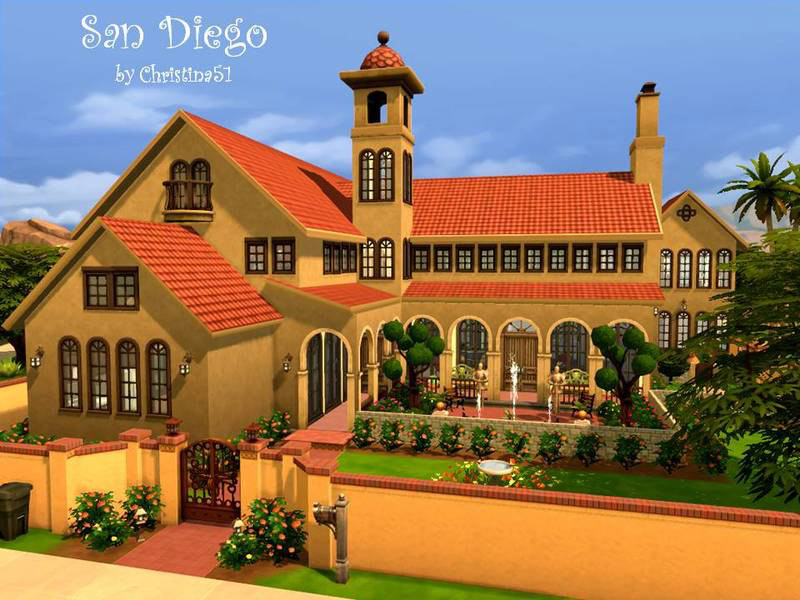 Converted into a luxurious 3 bedroom, 3.5 bathroom home, this old California mission is offered for sale by world renowned artist Magdalena Rossetti and her family. In addition to the beautiful main house, there is a fully equipped, separate artist studio guaranteed to inspire any Sim. A lovely swimming pool, recently added to the patio, provides a wonderful source of relaxation and family fun. If you are looking for a place to live a life of luxury and creativity, this is the perfect home for you! Pictures simply cannot do justice to this gorgeous home; you must see it to appreciate its beauty!!
A portico leads to the entrance to this beautiful home, which offers a huge living room with vaulted ceiling and fireplace, open kitchen/dining area, half bath, and spacious study on the first floor. A colonnade off the living room opens onto a lovely courtyard with a beautiful fountain in the front of the house. Another colonnade in the back extends across the living room and study, providing access to the pool and an outdoor dining area. The second floor offers a spacious master bedroom with sitting area and en suite bathroom, two additional bedrooms and another full bathroom. A lovely gallery overlooks the living room. The artist studio is accessed from the patio. Up the stairs, floor to ceiling windows flood the studio with plenty of light and there is a small porch where your artist can gather inspiration from views of the surrounding countryside. On the lower level, there is a storage room for paint supplies, canvases and works in progress, as well as an area for cleanup and a full bathroom. A small garden next to the studio offers an area for outdoor painting or just sitting and enjoying the flowers and sculpture.
This house was built for Sims 4 on a 40×30 lot at Arid Ridge in Oasis Springs. I have the Deluxe Edition with Up all Night and Life of the Party content. My game is patched through 1.2.16.10. Note: This house was inspired by my Sims 3 lot, Vista Del Mar, #1219755 here at TSR.
You must install the custom content shown below prior to installing this lot if you want the lot to look as pictured. In addition, I have re-sized a few items. To keep the items from reverting to their normal size, you must install the lot as follows: Click on a 40×30 lot. If the lot is vacant, enter Buld/Buy mode, open your library, and place this lot. If there is a house on the lot you have chosen, click on the lot, evict the family if occupied, enter Build/Buy Mode, bulldoze the existing house, then open your library and place this lot.
The following TSR custom content was used:
Kardofe, Sevilla Tiles Wall
Mutske, Ivy Pot Small
Pilar, MediterraneanCandelabro2
Severinka Classic Rug
TheNumbersWoman Shabby Bargain Shabby Chic Rug
Value: 366158
Furnished: Fully
Decorated: Throughout
Bedrooms: 3
Bathrooms: 3¢
Stories: 2
Lot Size: 40×30
Fully Furnished Residential Lot (40×30)
Credits:
Christina51