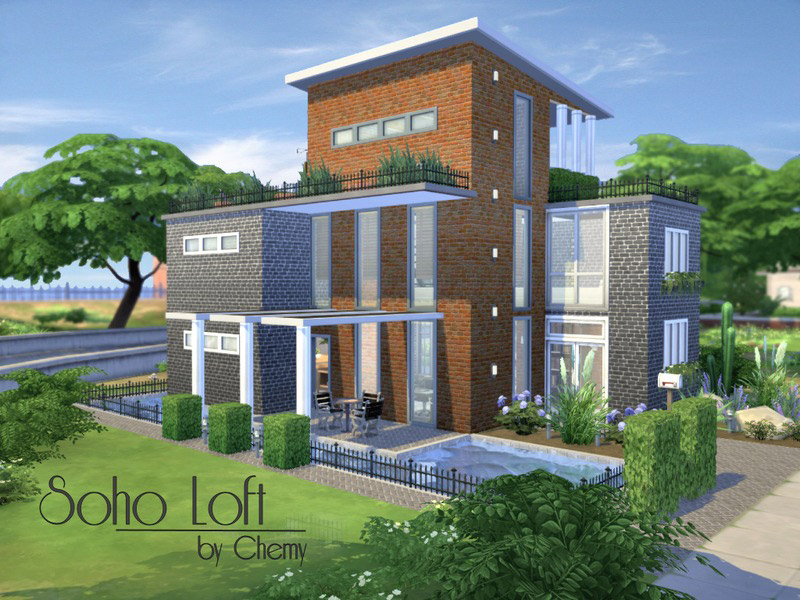 A rustic industrial style, this 1 bedroom loft home offers vaulted ceilings, open concept, Library area, roof top garden, Art Studio, pool and patio.
Note: See 'Creator Notes' for the required cc used in this lot which needs to be downloaded separately.
The Art Studio could easily be converted to a 2nd bedroom.
I have the Limited Edition of Sims 4
Make sure you have the latest patch installed.
Download the following cc and mods to Documents / Electronic Arts / The Sims 4 / Mods. Enter game, turn on 'Script Mods' then restart game and place the Lot. (not doing this can make the lot appear empty).
Thank you to the following Artists for the cc used in this lot:
Angela
Pure Living Bookshelf
TheNumbersWoman
Shabby Chic case table
Shabby Chic book basket
Modern Deco Face Sculpture
Severinka
Photomural town black & white
Wall clock
Dot
P1 Bright C Lamp Mesh
ShinoKCR
Power of Pink Bedroom Painting
Kiwisims
Industrial decaying painted concrete floor
TwistedMexi – MODS
Build/Buy Unlock cheat by TwistedMexi – read instructions
Move Object On cheat by TwistedMexi – read instructions
NOTE: The antique books on the floor have been resized – press shift + ] to enlarge.
Value: 91972
Furnished: Fully
Decorated: Throughout
Bedrooms: 1
Bathrooms: 1
Stories: 3
Lot Size: 20×15
Fully Furnished Residential Lot (20×15)
Credits:
chemy