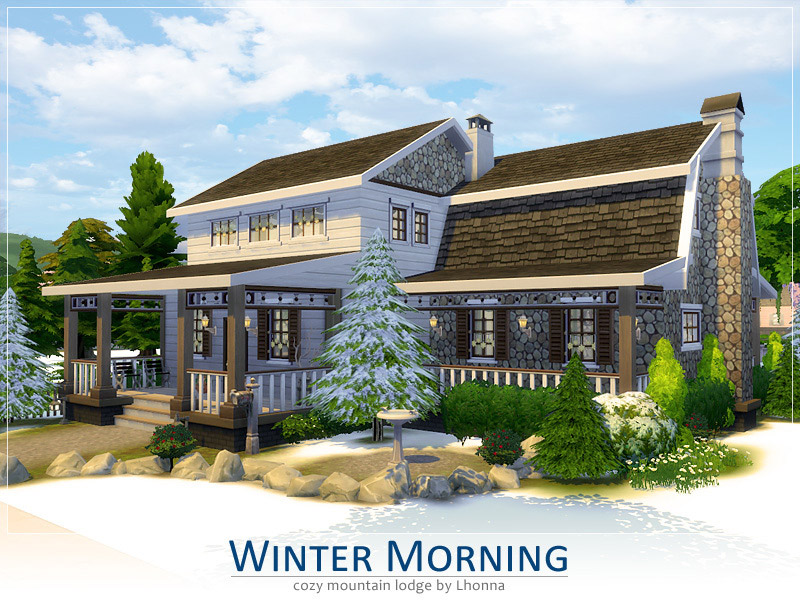 This beautiful, very cozy mountain lodge is perfect to spent there long and cold winter days. It can be just vacation house for your Sims or regular house, because it has all necessary things and place to sleep for a family (two adults and two children, but you can always add another bed).
Winter Morning contains: 2 TVs, stereo, PC, fire alarms, 2 fireplaces, easel, grill and more.
The house is furnished, landscaped, tested and ready to play.
Room list:
– ground floor: living room, kitchen, bathroom (bathtub and shower)
– 2nd floor: master bedroom, kids bedroom, bathroom (bathtub and shower)
CC used (please see Creators Note for more info).
Originally the house was built in "Potters Splay" lot.
Created with The Sims 4 base game and free Christmas Pack.
You must have last game patch from January 2015 to play this house.
To install this house into your game:
– download the house
– unzip files
– copy all 7 files and paste them into your Tray catalog ([…]My Documents/Electronic Arts/The Sims 4/Tray]
– I used "MoveObjects On" code, so be sure you install the lot properly. Do not load the lot directly from the Gallery into your neighborhood while you are in Manage Worlds (map view), because the MOOÁd objects can disappear. In order for the MOO to trans
If you don't see the house in Gallery, please follow these instructions:
If you downloaded a Sims 4 lot from us recently but it didn't appear in your game, this might be why: Turns out that EA went back to the Sims 2 game model in more ways than we originally thought. Aside from leaving out the ability to recolor furnishings in the game (CASt), if someone builds a lot using content from a version of the game that you don't have (such as the deluxe edition), then you won't see that lot. Fortunately there is a workaround – on the left side menu in the My Library section of the gallery, there is a button labeled Advanced. Click that button, then add a check mark for the option to 'Include Unowned Content'. Installed lots that you previously could not see should now appear.
Download the following CC to Documents / Electronic Arts / The Sims 4 / Mods (all CC must be installed before your place the house).
Severinka
TheNumbersWoman
Rirann
Huge thank you for all TSR Artist!
To have snow effect on ground like in the pictures, you should use Zerbu's Snowy Terrain Mod
Value: 124902
Furnished: Fully
Decorated: Throughout
Bedrooms: 2
Bathrooms: 2
Stories: 2
Lot Size: 30×20
Credits:
Lhonna