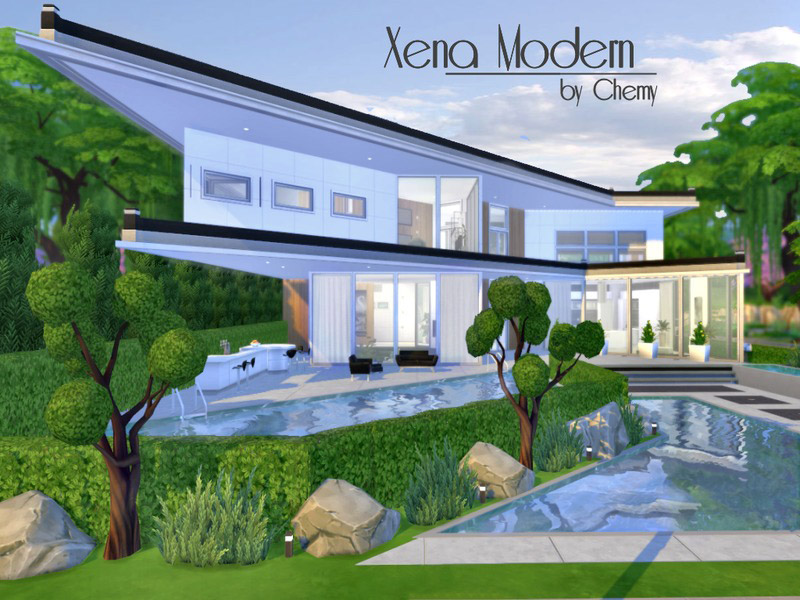 This ultra modern home offers minimalist design, open floor plan and sunken living room. Upstairs is 2 bedrooms, each with it's own bathroom and a small gym. Outdoors enjoy the 2 pools and poolside entertaining with a bar.
This Lot uses custom content, see Creator Notes for the downloads.
Some items have been enlarged…4 plants by front door, outdoor rocks and all the palm plants.
I have the Limited Edition of Sims 4
Make sure you have the latest patch installed.
Download the following cc to Documents / Electronic Arts / The Sims 4 / Mods. Start your game, turn on 'Script Mods' then exit, restart game and place the Lot. (all cc must be installed prior to placing the house).
Thank you to the following Artists for the cc used in this lot:
Dot
Modern Bollard Medium square
Vented Wall Light
AF7094 Lamp mesh
ShinoKCR
Kitchen Alobi Stove
Kitchen Alobi Rangehood
Kitchen Alobi Island Counter 2
Kitchen Alobi Fridge
Kitchen Alobi Counter 2
Kitchen Alobi Cabinet
Kitchen Alobi Barstool
ung999
Bedroom Acacia Curtain medium wall
Bedroom Acacia Curtain right medium wall
Bedroom Acacia Curtain left medium wall
Bedroom Acacia Double Bed
Bedroom Simplicity end table
Pilar
Croco divider small
Lulu265
Practical storage standing picture
jomsims
shower Lemingstone
Ottomon Lemingstone
Plant Lemingstone
Wall deco Sensation
Angela
Keira Dining chair
Hadley Living Fireplace
Severinka
Photomural Town black & white
Mutske
Small Palm Plant
Kiolometro
3 paintings Natural Energy
sim_man123
Kaelan Dresser
Hanagatami
Circles wall and floor set
Devirose
Intense woods wall set
Value: 176018
Furnished: Fully
Decorated: Throughout
Bedrooms: 2
Bathrooms: 2
Stories: 2
Lot Size: 40×30
Credits:
chemy