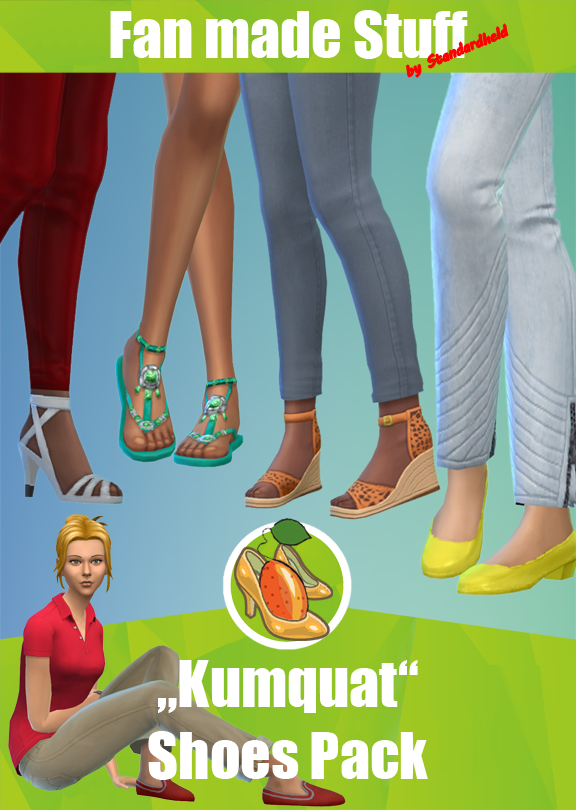 Age:
Teen
Young Adult
Adult
Elder
Clothing Style:
Everyday
Formal
Party
Clothing Type:
Shoes
Required Sims 4 Expansion Pack:
Get to Work
Cats & Dogs
Required Sims 4 Stuff Pack:
Movie Hangout Stuff
Backyard Stuff
Additional Requirements:
"Lazy Loafers" requires mesh by citrontart
"Nilfheim Heels" requires mesh by stephanine-sims
"No Nyans" requires The Sims 4 "Cats + Dogs" expansion pack but doesn't require mesh by hypergnomesimblr. It's included but I recommend to visit her blog!
"Perfect Shade" requires the perfect shade shoe mesh by plumbobteasociety
"Pine Loafers" requires mesh by pickypikachu (Notice: I just got the SFS download link, the post was deleted, but I recommend to visit her blog. She has many cute things)
"Stiletto Straps" requires mesh by ameranthe
This has nothing to do with kumquats! It's about shoes, a ton of shoe recolors requested by anonymous. And believe me: after all these recolors I really don't want to see any shoes for a loooooong time now, haha.
Features:
Females only, teen – elder
9 different shoes!
Every shoe has at least 53 swatches (some have 55)
Category: Shoes
Categories: Everyday, Formal, Party
Standalone
Enabled for random
Credits:
Standardheld