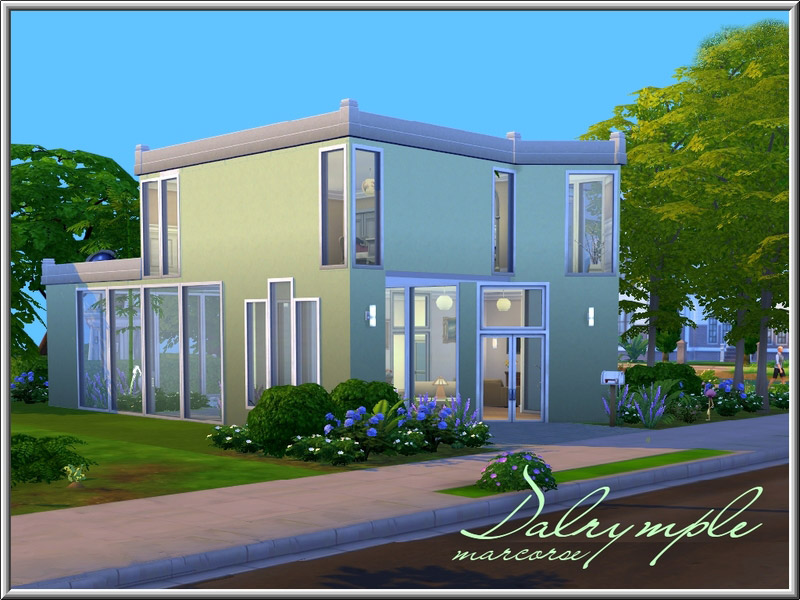 Dalrymple might be considered a starter home, since it has only 1 bedroom, but if so, then it would be as first home for an upwardly mobile Sim couple with a few dollars behind them – and possibly an interest in Science.
Dalrymple occupies 2 levels; the ground floor contains entry patio, main entry/lounge combined, bathroom and a pool area. This last is within the floor plan, but is not roofed.. The bedroom with ensuite bath, exercise space and a small, sunny reading nook, is on the second level, as is the kitchen/dining and a compact office/study.
Mention was previously made regarding an interest in Science . . . well, this can be catered for in the large Observatory building, set in it's own gated space beside the main building.
Mature trees, together with decorative floral plantings, have been placed strategically on the Lot, with seating under one of the larger specimens at the rear of the house.
Dalrymple was built on a 30×20 lot in Willow Creek and contains no Custom Content.
Dalrymple is a marcorse original TS4 lot. It contains no Custom Content.
You may not re-upload it anywhere, use it as a template to build a lot for upload or claim it as your own work [you may do anything you like with it, within your own game LOL]
.My game is fully patched.
Value: 125787
Furnished: Fully
Decorated: Throughout
Bedrooms: 1
Bathrooms: 2
Stories: 3
Lot Size: 30×20
Fully Furnished Residential Lot (30×20)
Credits:
marcorse