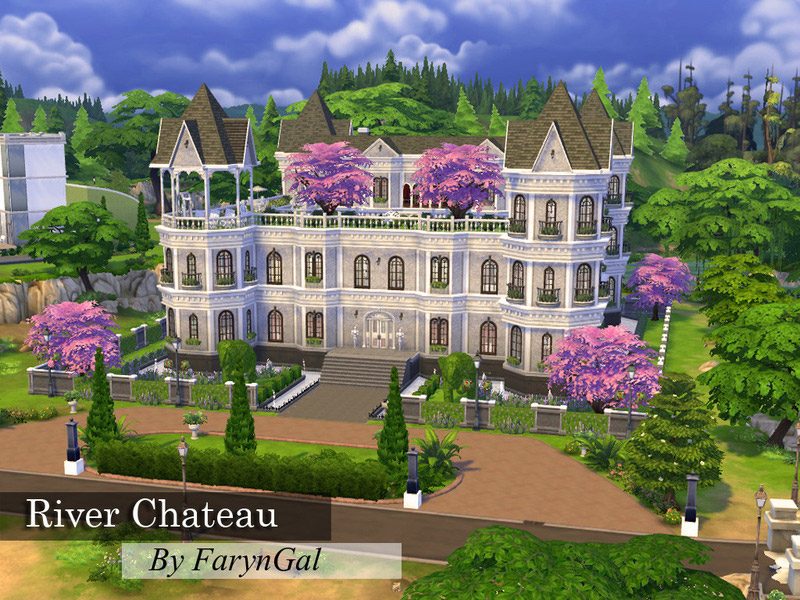 This chateau was built in the 17th century by a noble french family who came to Willow Creek by a large ship. Nobody knew why they came to Willow Creek. They settled in on the very first land they saw by the river facing the sea. A century later, the inhabitants of the chateau mysteriously disappeared, it is rumored that the butler killed all the family members, and he then later killed himself. Now, it is believed that the ghost of the family members still roam the hallways of the chateau sadly unaware that they are long gone from this world.
The chateau has been newly renovated to meet the current style and can accommodate your large sims family. The living, dining, kitchen are located on the first floor with additional study/library room at the front and maids room at the back. A fountain garden with outdoor BBQ and seating are also connected in the middle of the first floor. All the main bedrooms are located on the 2nd floor and each have their own bathrooms. On the 3rd floor, social event/gathering/ wedding parties is situated here with bars and live music for your sims to have drinks and dance, the wedding ceremony will be on the rooftop garden facing the sea. A gym complete with bathrooms are also located on the the 3rd floor. Here are the list of the rooms provided:
1st floor
– Living
– Dining
– Kitchen
– Study/Library
– Maids room
– Bathroom
2nd floor
– 5 bedrooms (master bedroom is connected to the kids bedroom/you can also change it into a nursery room)
– 5 bathrooms connected to each bedrooms
3rd floor
– Gym
– Bars
– Music area/dancing area
– Bathrooms
– Rooftop garden + Wedding area
I hope you all like it! Have fun!
Value: 956166
Furnished: Fully
Decorated: Throughout
Bedrooms: 6
Bathrooms: 5
Stories: 3
Lot Size: 50×50
Fully Furnished Residential Lot (50×50)
Credits:
FarynGal2