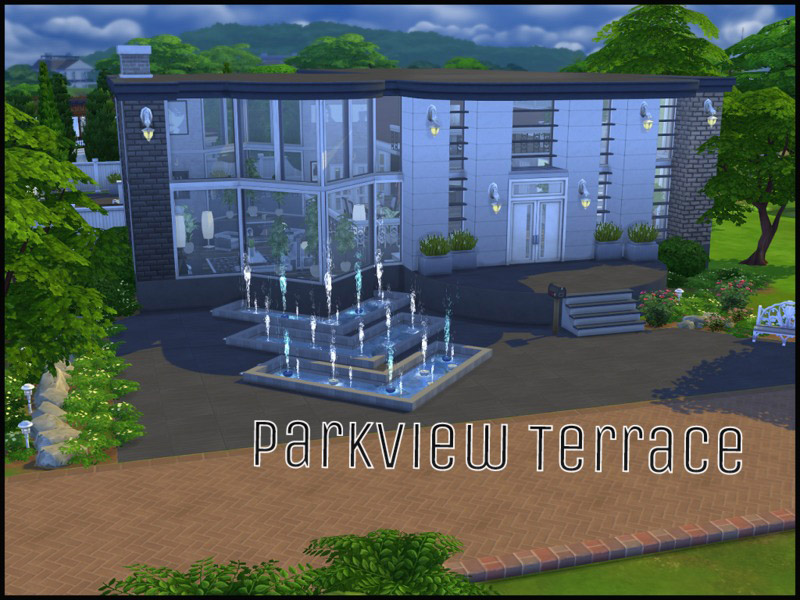 Parkview Terrace – Large house with 2 bedrooms 3 bathrooms. Open concept main floor has a sunken living room living room with a large fireplace wall. Open spaced dinning area and kitchen. The double doors off the kitchen leeds to a sunken bar/games room with full bar and sitting area, computer, large screen TV with speakers
and card table. Off the dinning area double doors leed to the backyard deck, BBQ and large pool.
Upstairs landing has a chess game, doors to a full bathroom, kids room and masters bedroom. Master bedroom has computer nook, sitting area, TV, walk-in closet which leads to a small bathroom with shower.
I totally forgot I had built this house…I had put it aside waiting for pools to become available. Yes, cc used see notes/recommend.
Built in Willow Creek on Cypress Terrace lot.
As always, Thank You to the TSR Artists…
Build/Buy Unlock Cheat – Unlock All Build/Buy Content by TwistedMexi
Source Set by Dot
Source Open Book Mesh
Source Table Lamp
Hadley Livingroom by Angela
Hadley Living Loveseat
Hadley Living Painting
Pot Ceiling Lamp Set by Dot
Gab Contemporary Living by TheNumbersWomen
-contemporary Gab Living Long Painting
-contemporary Gab Living male picture
-contemporary Gab Living leaf sculpture
-contemporary Gab Living rounded sculpture
-contemporary Gab Living Face Sculpture
Living Mediterranean Experience by Pilar
Paintings
Pilar_MediterraneanNuvolaG
Pilar_MediterraneanFoglie
Bedroom Simplicity by ung999
Bedroom Simplicity – Paintings
SIMply Modern Diningroom by Angela
Simply Modern Dining Picture
Trenton Living by mutske
Trenton Table Picture I,ll,lll
Plants, plants, plants Set by mutske
Elegant Bathroom by ShinoKCR
Additional downloads are recommended for this item, visit The Sims Resource using the blue download button below to find out more
Value: 193931
Furnished: Fully
Decorated: Throughout
Bedrooms: 2
Bathrooms: 3
Stories: 2
Lot Size: 40×30
Credits:
Sparky